2018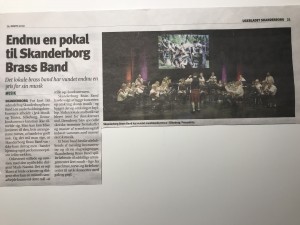 2017
2016
Vores traditionsbundne promenadekoncert på Adelgade i Skanderborg.
Fyldt helt op på publikumsrækkerne!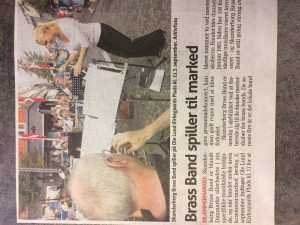 Ugeavisen 3.8.16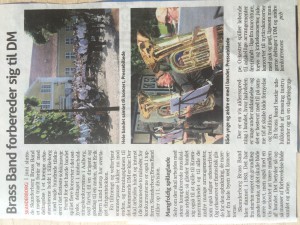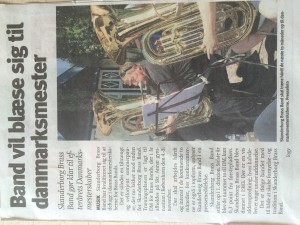 2015
DM Presseomtale
Fra 4BR
Report & Results: 2015 Aalborg Music Festival
20-May-2015
There was plenty of top class music tuition, concerts and contesting to enjoy at the Aalborg Music Festival in Denmark
The 8th annual Aalborg Music Festival took place in the wonderful Danish city last weekend, with a superb selection of concerts, masterclasses and competitions enjoyed by a supportive audience.
It all kicked off on the Friday with star players Magnus Brandseth and David Thornton giving a series of workshop masterclasses covering all aspects of performance – from breathing techniques and tonal exercises to multi phonics.
Proactive judges
A spokesperson told 4BR: "We have adjudicators of the highest level every year at the Festival, and when they are here we ask them to become a proactive part of the event and to inspire the participants. That was certainly the case with Magnus and David – they were simply superb!"
The Saturday was packed with music making – with 18 separate concert and performance events led by the high class competitions with entrants from both Denmark and Norway – including the first appearance of the Sotra Vest/Ulveseth Skolekorps Band from Bergen.
Section wins
In the top flight event it was Skanderborg Brass Band directed by Henrik Lutzen who claimed a hat-trick of victories with their fourth win in the history of the contest, ahead of Frederikshavn FDF Brass Band and Hjorring Brass Band
In Section B, the all female Brovst Pigegarde Band conducted by Peter Deichgraber won for a fifth time, with welcome returnee Newcommer Senex Brass second, and the excellent Sotra School Band (with their oldest member aged 19) from Norway in third.
Section C was won by Logstor Garden directed by Marie Bak, who have participated every year since the start of the contest.
Huge development
Event organiser Henrik Juul-Pedersen told 4BR: "We also see a huge development in the individual bands each year at Aaalborg The first year Logstor performed with just 8 players, but this year they came with 20. That's fantastic!"
Unofficial Championship
Henrik also told 4BR that the popular BBQ contest is now regarded as the unofficial Danish Championship for brass band ensembles.
Founded by euphonium player Steffen Maersk, three ensembles performed to a very high standard this year, with the contest eventually won by the KVMMM Ensemble from Frederikshavn Brass Band.
Steffen told 4BR: "We need to focus even more on ensemble playing. It is easy to do – you just need instruments and 120 'Hymns for Brass Band'. It is a great way to develop musicians."
Herbert Moller Prize
Tuba star Magnus Brandseth was the star soloist in the evening gala concert, where he was joined by Concord Brass Band under conductor, Prof Jesper Juul, who told 4BR: "Concord Brass Band are one of the finest bands in Denmark. They made a very big effort this weekend to join us, and we were very glad and proud to have them here!"
At the gala concert, the prestigious 'Herbert Moller Prize' given in honour of the founding father of the Danish brass band movement was presented to Jan Norgaard for his work with Sejs Blaeserne Band and with the Silkeblaes Contest.
Vejle Amts Folkeblad Nytårs koncert
2014
Julekoncert Adelgade, Skanderborg
Promenadekoncert 9.9.14. Ugebladet